When you are planning to move and need to take your safe with you, McCabe's Moving advises against trying to move the heavy object yourself. We'll come to Berlin to dismount, protect, transport and remount a safe no matter how much it weighs or what it contains. (The only thing we can't transport by law is firearms.) Even a safe that looks small and only contains bonds and jewelry can be too heavy for one person to lift. Most safes are bolted to a floor or wall and special tools are required to uninstall them. Most standard moving companies don't have the equipment and experience. We have the tools and knowhow to work in closets, attics and other tight spaces without causing property damage. All we ask is that you disengage the alarm system and/or inform your surveillance service before we begin the work.​
The Safe Mover in Berlin You Can Trust
Click Here to Learn Move about Our Other Moving Services for Berlin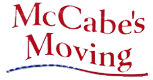 "Your moving job is our career!" Reliable, Affordable, Licensed and Insured Mover in CT
TOLL FREE: 1-866-228-9467
We Make Moving Easy Guaranteed!