McCabe's Moving knows how important it is for you to get your moving done on time and within your budget. If you have any questions please contact us through the attached questionnaire below and it will be our pleasure to assist you.​
Once the attached questionnaire is filled out a McCabe's Moving sales consultant will contact you quickly. You'll get a carefully explained free moving estimate handled by email or over the phone if a phone number is provided.
If you like you can always call us toll free for an immediate response. Our toll free phone number is 1-866-228-9467.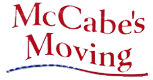 "Your moving job is our career!" Reliable, Affordable, Licensed and Insured Mover in CT
TOLL FREE: 1-866-228-9467
We Make Moving Easy Guaranteed!