Moving Company for Meriden Safes
At McCabe's Moving, we know how important it is for your safe to be with you at all times whether it's used to protect your valuable possessions or protect certain family members and friends from firearms. We have helped people in Meriden transport safes of all sizes from one residence or business to another. (It is against the law for moving companies to transport the firearms, though.) We protect the body and contents of the safe as well as the floor and walls surrounding the safe. We can dismount then remount them. That means you don't won't need to rent any special equipment after you hire us to move your safe. We have our own jacks, rollers, plates, plywood and other hardware. We are a licensed and insured moving company that will take good care of your safe and transport it where you wish.
Licensed & Insured Meriden Safe Mover
Click Here to Learn Move about Our Specialty Moving Services for Meriden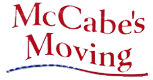 "Your moving job is our career!" Reliable, Affordable, Licensed and Insured Mover in CT
TOLL FREE: 1-866-228-9467
We Make Moving Easy Guaranteed!