Piano Moving Experts Wolcott CT
McCabe's Moving specializes in moving all styles of pianos, grands or vertical. We will will properly pack and secure it when we move it around Wolcott or in and out of town. We will even move pianos to another location within the same home, business or organization. We caution Wolcott residents against moving a piano themselves or with the help of friends. A piano weighs a lot more than most people realize. Larger pianos, especially grands, might not fit through a doorway or up a curving staircase. You could get hurt or the piano and building might suffer costly damage. McCabe's Moving will spare you that. We have the technical skills if a job requires disassembling a piano then putting it back together again at its new location. We bring all the tools and manpower we need to keep your piano standing on all of its legs.
Wolcott Piano Movers, Grands and Verticals
Click Here to Get Information about Other Moving Services in Wolcott CT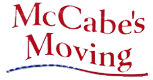 "Your moving job is our career!" Reliable, Affordable, Licensed and Insured Mover in CT
TOLL FREE: 1-866-228-9467
We Make Moving Easy Guaranteed!