Piano Moving Company Wallingford CT
The best of pianos deserve the best of movers and McCabe's Moving is ready to help you in Wallingford. We specialize in moving all kinds of pianos large and small, old and new. We even move organs. No job is too big or too small. If you want a piano moved across the room or in and out of Wallingford, just ask us. Don't try to do it yourself because pianos weigh hundreds of pounds and could get stuck in narrow doorways or halls. What's more, we know how to move pianos without causing damage to floors, carpets, walls and other furniture. We have the technical skills if a job requires dissassembling a piano then putting it back together again at its new location. McCabe's Moving brings the tools and crew needed to keep your sensitive musical instrument standing on all of its legs.​
Wallingford's Best Piano Moving Service
Click Here to Get Information about Other Moving Services in Wallingford CT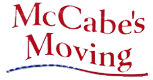 "Your moving job is our career!" Reliable, Affordable, Licensed and Insured Mover in CT
TOLL FREE: 1-866-228-9467
We Make Moving Easy Guaranteed!