Piano Movers Southington CT
Whether you need to move your piano to another room, across town, or in and out of Southington, McCabe's Movers is the local moving company to call to do this special job. We know a piano is more than a piece of furniture. It's a sensitive musical instrument that won't work properly if any of the keys, pedals, wires and other components become loose or get broken during transport.
A piano can weigh hundreds of pounds and many won't fit through doorways, down hallways, or up and down staircases. It's dangerous for inexperienced people to try to move a piano. McCabe's Movers won't let anyone get hurt, including your piano. We show up on the job with all the tools we need to disassemble then reassemble the piano, if necessary, to fit through tight spaces. We have specialized equipment including boards and dollies to do the piano moving in Southington.
We Are Southington's Piano Moving Experts
Click Here to Get Information about Our Other Special Moving Services for Southington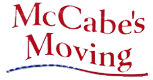 "Your moving job is our career!" Reliable, Affordable, Licensed and Insured Mover in CT
TOLL FREE: 1-866-228-9467
We Make Moving Easy Guaranteed!