Moving a piano to or from Simsbury is a tough job. Our experts at McCabe's Moving know how to prevent bodily injury and avoid damaging the piano and surrounding property. Pianos weigh hundreds of pounds and usually will not fit through doorways or down less-tan-straight staircases. We've been transporting pianos for a lot of people and can help you out in Simsbury. We know a piano is more than a piece of furniture. It is a sensitive musical instrument. If one thing goes wrong such as a busted pedal, nothing sounds the same anymore. Our crew members have the knowledge to disassemble then reassamble a piano if needed. We always bring our own equipment, protective coverings and the right size vehicle to transport the piano. When McCabe's does the moving, we don't require any outside help. Call us for a free estimate.​
Simsbury's Trusted Piano Movers
Click Here to Get Information about Other Special Moving Services We Do in Simsbury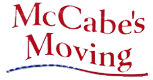 "Your moving job is our career!" Reliable, Affordable, Licensed and Insured Mover in CT
TOLL FREE: 1-866-228-9467
We Make Moving Easy Guaranteed!