Piano Moving Company Rocky Hill CT
When it's time to move your piano into, out of or around Rocky Hill, let the experts do it at McCabe's Moving. It's not something for the inexperienced do-it-yourselfer to undertake. A piano can weigh hundreds of pounds and might not move as easily as you think through a doorway or down a narrow hall or stairway. We have the right equipment to move such a large instrument without causing injury to anyone or damage to the piano and its surrounding walls and floors. Our movers know how to disassemble a piano then put it back together if that becomes necessary. We guarantee to get your piano from one location to another in the condition it was in when we picked it up.​
Rocky Hill's Favorite Piano Movers
Click Here to Get Information about Other Moving Services in Rocky Hill CT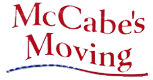 "Your moving job is our career!" Reliable, Affordable, Licensed and Insured Mover in CT
TOLL FREE: 1-866-228-9467
We Make Moving Easy Guaranteed!