Piano Moving Company Middletown CT
If you're a pianist who is looking for an experienced crew to take your piano across the room or move it into or out of Middletown, call us at McCabe's Moving. We've handled pianos of many makes and sizes without leaving scratches or destroying the sound quality. Pianos are too heavy and bulky for you and your friends to handle; the risk of injury is high. What's more, an accidental jolt down a couple of stairs can do more damage on the inside of a piano than on the outside. The quality of music you enjoy depends on the wires, pedals and other hardware working well together. When we move a piano, we also make sure it won't scratch or mar the flooring and walls. The movers we send out will trained in how to disassemble a piano then put it back together if that become necessary. Contact us for a free estimate.​
Middletown's Trusted Piano Movers
Click Here to Get Information about Other Moving Services in Middletown CT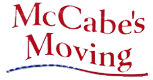 "Your moving job is our career!" Reliable, Affordable, Licensed and Insured Mover in CT
TOLL FREE: 1-866-228-9467
We Make Moving Easy Guaranteed!