Piano Moving Company Litchfield CT
Your hands were meant for playing a piano, not trying to move one. That's why you need our help at McCabe's Moving when you want to move your piano around Litchfield or in or out of the area. Every piano we've handled weighed a lot. There's the additional challenge of getting large pianos through narrow doors and halls, then down tricky staircases. We are aware that a piano is a sensitive musical instrument with parts that need to remain intact. McCabe's Moving also cares about the piano's surroundings. We never leave a scratch on the walls and floors. The movers we send out know how to disassemble a piano then put it back together if that becomes necessary. You and your piano will avoid injury and the job will get done quickly if you let us do the moving. Call us for a free consultation.
Litchfield's Trusted Piano Movers
Click Here to Get Information about Other Moving Services in Lichfield CT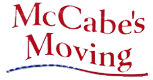 "Your moving job is our career!" Reliable, Affordable, Licensed and Insured Mover in CT
TOLL FREE: 1-866-228-9467
We Make Moving Easy Guaranteed!