Trusted Piano Movers Farmington CT
Farmington residents trust McCabe's Moving when it's time to move a piano with care across the room, into another room, another area of Farmington or to a nearby CT town. A piano is more than a furnishing. We know its components won't work in harmony if any of the keys, pedals and wires are loosened up or broken during transport.
A piano weighs more than most people realize and even the slimmest looking one might not fit through a doorway, down a hallway or down a staircase. It's not safe for inexperienced people to move a piano. McCabe's Moving doesn't want you, your helpers and the piano to get hurt. We have the technical knowhow if the job requires disassembling the piano then putting it back together at the new location. We bring all the tools and manpower we need.
We Are Farmington's Top Piano Movers
Click Here to Get Information about Other Special Moving Services We Do in Farmington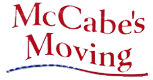 "Your moving job is our career!" Reliable, Affordable, Licensed and Insured Mover in CT
TOLL FREE: 1-866-228-9467
We Make Moving Easy Guaranteed!