Piano Moving Company Cromwell CT
When you need to have your piano moved in or out of Cromwell, McCabe's Moving will provide satisfaction beyond your expectations. We know a piano usually weighs a few hundred pounds and up. If you try to get friends and relatives to help you move one, someone could get hurt. We've also seen problems arise that would be hard for you to solve such as tight spaces, narrow hallways, and steep stairs. In addition, piano is a sensitive musical instrument that could get out of tune if dropped or bumped really hard. It could also cause damage to the walls, floors, and ceilings of both your old and new residences if not properly handled. The movers we send out know how to disassemble a piano then put it back together if that becomes necessary. You and your piano will avoid injury and the job will get done quickly if you let us do the moving. Call us for a free consultation.​
Cromwell's Trusted Piano Movers
Click Here to Get Information about Other Moving Services in Cromwell CT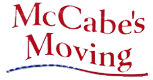 "Your moving job is our career!" Reliable, Affordable, Licensed and Insured Mover in CT
TOLL FREE: 1-866-228-9467
We Make Moving Easy Guaranteed!