Piano Moving Company Burlington CT
When it's time to move your piano to or from the Burlington area, please don't make the mistake of trying to move it with the help of family and friends. A piano is one of the heaviest items McCabe's Moving has moved from homes, schools, concert halls etc. Improper handling by inexperienced people could result in injuries and property damage. When it comes to piano moving, our company has the equipment and technical skills to deal with narrow doorways and tricky staircases. We show up with everything we need including boards, dollies and the right sized moving truck. We know how to disassemble then reassemble a piano if that becomes necessary. We know pianos are sensitive musical instruments and we'll treat yours with care and respect. No piano moving job is too big or too small.​
Piano Movers Standing by to Help Burlington
Click Here to Get Information about Other Special Moving Services We Do in Burlington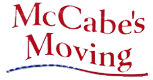 "Your moving job is our career!" Reliable, Affordable, Licensed and Insured Mover in CT
TOLL FREE: 1-866-228-9467
We Make Moving Easy Guaranteed!