What type of piano do you need to have moved in and out of Bristol or around the house? A grand, baby grand, upright, organ, or other keyboard instrument? McCabe's Moving will get your piano where it needs to go without risking the safety of our crew, your piano, or someone's property. We never consider any job "too hard." We have moved pianos that weighed hundreds of pounds and needed to be moved through tight spaces and up to or down from the second floor or higher. No job is "too small," either, so please don't hesitate to call us if you're rearranging your room. We bring all of the equipment we need to protect your sensitive musical instrument. Our moving trucks are in excellent mechanical condition, too. From the initial consultation through scheduling and the actual move, McCabe's Moving is committed to providing a high level of satisfaction for the piano owner.
​
Experienced Piano Movers in Bristol
Click Here for More Information about Our Other Professional Moving Services for Bristol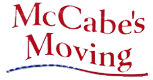 "Your moving job is our career!" Reliable, Affordable, Licensed and Insured Mover in CT
TOLL FREE: 1-866-228-9467
We Make Moving Easy Guaranteed!