McCabe's Moving has the trained staff and specially designed equipment to move a hot tub in or out of Wolcott or somewhere else in town. We advise against trying to move it yourself. For one thing, a hot tub usually weighs over 800 pounds. We start with a thorough consultation, including a personal visit to the hot tub's new location to rule out potential problems. You will be pleased when you see how safely and efficiently our staff will pick up your hot tub, load it onto one of our trailers, then move it to a new location. All you have to do before the move is drain the water and have a licensed electrician disconnect the hot tub from the power source. We do everything else from start to finish, including wrapping the tub, loading it, transporting it, and unloading it.​
Premier Hot Tub Moving Company in Wolcott
Click Here to Learn More About Our Moving Services for the Wolcott Area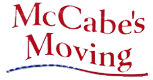 "Your moving job is our career!" Reliable, Affordable, Licensed and Insured Mover in CT
TOLL FREE: 1-866-228-9467
We Make Moving Easy Guaranteed!