Hot Tub Moving Wethersfield CT
A hot tub is probably the most difficult of all large objects to move in or out of Wethersfield. If you and a few friends tried to do it, it could seem impossible to maneuver it. Getting it on and off a moving truck could cause injuries and property damage unless you've had experience doing this sort of thing. The easiest and safest way to relocate your hot tub is to call McCabe's Moving. During the initial consultation, we'll want to know the dimensions and structure of the new location so you don't have to encounter unpleasant surprises. If everything looks like it's going to go smoothly, we'll do everything from start to finish on moving day except disconnect the wires and hoses from the plumbing and power source. We have our own hardware, tools and moving truck to handle the relocation. We advise contacting a licensed electrician and plumber to make sure things are properly disconnected then reconnected again.​
Wethersfield's Hot Tub Moving Experts
Read More About All of Our Available Moving Services in Wethersfield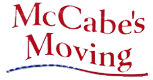 "Your moving job is our career!" Reliable, Affordable, Licensed and Insured Mover in CT
TOLL FREE: 1-866-228-9467
We Make Moving Easy Guaranteed!