Hot Tub Moving Watertown CT
Whether a hot tub has to be moved from one home to another or from a seller to a buyer, a professional moving company should get involved. McCabe's Moving is licensed and insured to do the job for anyone in the Watertown area. A hot tub weighs hundreds of pounds and some of them require a vehicle that handles oversized loads. We ask that you get a licensed electrician to disconnect and connect a hot tub from the power source, but we do everything else. We bring our own crew, hardware and vehicle. During the initial consultation, we can advise you whether or not the hot tub will fit in a new location or whether or not a floor or a deck will bear its weight. We are careful every step of the way. Nobody gets injured, the hot tub won't get a scratch and there won't be any property damage.​
Watertown's Hot Tub Moving Experts
Click Here to Learn More About All of Our Available Moving Services in Watertown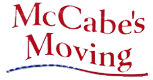 "Your moving job is our career!" Reliable, Affordable, Licensed and Insured Mover in CT
TOLL FREE: 1-866-228-9467
We Make Moving Easy Guaranteed!