Hot Tub Moving Wallingford CT
When your favorite hot tub needs to be moved in or out of Wallingford, you can trust McCabe's Moving to do the job. You don't have to risk personal injuries or damage to floors and walls by letting your family and friends try to help you. We do everything from start to finish on moving day, including wrapping the tub, loading it, transporting it and unloading it. All you have to do before and after we show up is have a licensed electrician disconnect it from the power source then reconnect it again. We have a good reputation for moving hot tubs because we take a good look at the old and new locations. We will advise you about any potential problems, but the final decision is still yours. Our crew is safety minded, courteous and efficient every step of the way.​
Recommended Hot Tub Movers in Wallingford
Click Here to Learn More About Our Moving Services for the Wallingford Area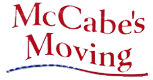 "Your moving job is our career!" Reliable, Affordable, Licensed and Insured Mover in CT
TOLL FREE: 1-866-228-9467
We Make Moving Easy Guaranteed!