Hot Tub Moving Company Thomaston CT
McCabe's Moving is a full-service moving company servicing the Thomaston, CT area. We have invested in special equipment and employee training so we can handle moving large objects such as hot tubs. Any hot tub we handled weighed more than the average person and a friend can move without causing personal injury and/or property damage. We work safely when we pick up, transport and place a hot tub. We count on our customers to drain the water and have the water and power hookups disconnected before moving day. We are willing to take a look at the new location and determine whether or not the new deck or floor will handle the weight and size of the hot tub. If everything is a go, we will move the hot tub and inspect it after it's in place. Part of our great customer service is a free estimate for a hot tub moving job.​
The Hot Tub Moving Experts in Thomaston
Read More About Our Moving Company's Specialty Services in Thomaston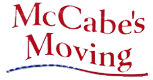 "Your moving job is our career!" Reliable, Affordable, Licensed and Insured Mover in CT
TOLL FREE: 1-866-228-9467
We Make Moving Easy Guaranteed!