Hot Tub Movers Southington CT
Moving a hot tub is a specialty McCabe's Movers has had the training and experience to do for the people of Southington. We know that careful pre-planning is just as important as safely handling the hot tub on moving day. One of our consultants will speak with you and get the particulars of your Southington hot tub move. Because honesty is one of our policies, we will point out any potential problems, including the possibility that the new location might not bear the weight or size of the hot tub. We will go over preparations you need to make prior to moving day, including draining the tub and having it properly disconnected by a licensed electrician. When it's time to move the hot tub, we come prepared with all of the equipment we need to safely move it from the old location to the new one. At McCabe's Movers, we do the hot tub moving job from start to finish.
We Are Southington's Hot Tub Moving Experts
Click Here to Get Information about Our Other Special Moving Services for Southington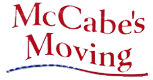 "Your moving job is our career!" Reliable, Affordable, Licensed and Insured Mover in CT
TOLL FREE: 1-866-228-9467
We Make Moving Easy Guaranteed!