Hot Tub Moving Rocky Hill CT
Hot tubs and jacuzzis are much heavier and larger than any household furniture. That's why it's best to get McCabe's Moving to move your hot tub in or out of Rocky Hill. We have the equipment and experienced crew to get a hot tub out of an old location and transport it safely to the new location. Hot tubs weigh at least as much as pianos. They are oversized enough to cause damage to floors, walls and even human beings when improperly handled. Let us spare you the unpleasant surprises of moving a hot tub. Our crew is trained, efficient and courteous. During the initial consultation, we'll even check out the new location and warn you if we see a potential problem there. On moving day, we'll do everything from start to finish as long as the hot tub is drained and disconnected from the power source.​
Rocky Hill's Hot Tub Moving Experts
Read More About All of Our Special Moving Services for Rocky Hill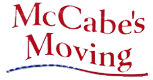 "Your moving job is our career!" Reliable, Affordable, Licensed and Insured Mover in CT
TOLL FREE: 1-866-228-9467
We Make Moving Easy Guaranteed!