Hot Tub Moving Company New Britain CT
If you're looking for a moving company with experience in removing, transporting and placing hot tubs, look no further than McCabe's Moving. We are a full service moving company that invested in special equipment to move very bulky and heavy items such as hot tubs. We work safely without causing personal injury or damaging decks, walls, lawns and flower beds. Before or on moving day, you will need to drain the water and have the water and power hookups disconnected. We will look at the new location and determine whether or not the new deck or floor will handle the weight and dimensions of your hot tub. If everything is a go, we will transport the hot tub and then inspect it after it's in place. A free estimate is part of the great customer service we give at McCabe's Moving.​
The Hot Tub Moving Experts in New Britain
Read More About Our Moving Company's Specialty Services in New Britain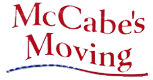 "Your moving job is our career!" Reliable, Affordable, Licensed and Insured Mover in CT
TOLL FREE: 1-866-228-9467
We Make Moving Easy Guaranteed!