Hot Tub Moving Middletown CT
At McCabe's Moving we have the training and experience to move hot tubs around Middletown or in and out of town. Every hot tub we've moved weighed more than the average person would be able to handle with a bunch of friends. During the initial consultation, we'll want to know the dimensions and structure of the new location so you don't have to encounter unpleasant surprises. Let's face it, nobody wants to watch their hot tub break through the floorboards. If everything looks like it's going to go smoothly, we'll do everything from start to finish on moving day. We have our own hardware, tools and fleet. All you need to do is drain the tub and have a licensed electrician disconnect it from the power source before we show up, then reconnect it after the move is made.​
Middletown's Hot Tub Moving Experts
Click Here to Learn More About All of Our Available Moving Services in Middletown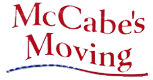 "Your moving job is our career!" Reliable, Affordable, Licensed and Insured Mover in CT
TOLL FREE: 1-866-228-9467
We Make Moving Easy Guaranteed!