When you need to move your favorite hot tub to another location at home or some other place in or out of Meriden, McCabe's Moving is the company to call. We advise people against trying to move the hot tub themselves. A hot tub can weigh over 800 lbs. Your hot tub most likely would be an oversized load on a trailer truck, so it would be your responsibility to comply with local and state laws. If you get into an accident, you will be liable. Wouldn't you rather have peace of mind by calling McCabe's Moving to do the job? We have the knowledge, experience and equipment to handle a special service such as moving a hot tub. We'll make it easy for you from our initial consultation through the actual moving day. All we ask is that you drain the water and hire an electrician to disconnect and reconnect the power source.
Meriden's Choice for a Hot Tub Mover
Click Here to Learn More About Our Moving Services for the Meriden Area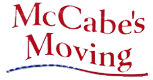 "Your moving job is our career!" Reliable, Affordable, Licensed and Insured Mover in CT
TOLL FREE: 1-866-228-9467
We Make Moving Easy Guaranteed!