Hot Tub Moving Litchfield CT
The hot tub you love and don't want to leave behind can be transported in and out of Litchfield. At McCabe's Moving we have all the special equipment and transport vehicles to handle moving hot tubs. Even if your hot tub only accommodates two adults, you'll be amazed how oversized and heavy it is. If handled the wrong way, there can be personal injuries and property damage. A moving company like ours will spare you that trouble. Our moving crew is trained, efficient and courteous. During the first visit, we'll ask where your hot tub is going and find out if the new area can handle its dimensions and weight. When moving day comes, we'll do everything from start to finish except drain the tub and disconnect it from the power source.​
Litchfield's Hot Tub Moving Experts
Read More About All of Our Available Moving Services in Litchfield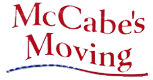 "Your moving job is our career!" Reliable, Affordable, Licensed and Insured Mover in CT
TOLL FREE: 1-866-228-9467
We Make Moving Easy Guaranteed!