Hot Tub Movers Cheshire CT
A hot tub is probably one of the most difficult things to transport from one location to another. People in Cheshire rely on McCabe's Moving for the difficult jobs and one of our specialties is moving hot tubs. We do more than just transporting the hot tub. We look at the size and shape of the one you have, then make sure there won't be issues in its new location before we start out. You'll always have the final say, but we'll be frank about any obstacles you could face as soon as you move or later on. We'll let you know everything you need to do before we pick up the hot tub, including draining it and having a licensed electrician disconnect it. After that, you'll have nothing to worry about on moving day. We'll bring the truck, equipment and manpower needed to get the job done.​
Hot Tubs Moved in and out of Cheshire
Click Here to Check Out Our Other Special Moving Services for Cheshire CT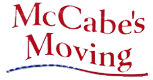 "Your moving job is our career!" Reliable, Affordable, Licensed and Insured Mover in CT
TOLL FREE: 1-866-228-9467
We Make Moving Easy Guaranteed!