Hot Tub Moving Company Canton CT
The hot tub you relax in might be one of the first things you want to move to a new place in or out of Canton, CT. A hot tub can weigh hundreds of pounds and will be larger than you imagined after it is removed from its present location. The safest way to move a hot tub is to let a professional moving company like McCabe's Moving handle it. We have all the special equipment and transport vehicles to handle the hot tub move. We will advise you if we suspect your new location might be too small or might not bear the weight of a hot tub. On moving day, our courteous moving crew will take out the hot tub, get it onto a truck and put it in a new location without causing injury or property damage. All you have to do before we show up is drain the tub and have an electrician disconnect it from the power source.​
The Hot Tub Moving Experts in Canton
Read More About Our Moving Company's Services in Canton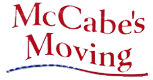 "Your moving job is our career!" Reliable, Affordable, Licensed and Insured Mover in CT
TOLL FREE: 1-866-228-9467
We Make Moving Easy Guaranteed!