Hot Tub Moving Burlington CT
When you want to take your hot tub to or from Burlington, please hire a reliable moving company to do it. McCabe's Moving provides more than just a moving truck. We know most hot tubs weight 800 lbs. or more and a rental moving truck would never be the answer. We have all the proper equipment for loading and unloading a hot . We have the right vehicle to transport it safely while complying with state laws and local ordinances. During our initial consultation with you, we will need details about the new location and might even pay a visit there. That's because part of our excellent service includes advising the hot tub owner whether or not the hot tub will fit and whether or not the new deck or floor will support it. If everything checks out okay, all you have to do before the actual move is drain the water and have an electrician disconnect the power source.​
Hot Tub Moving Experts Serving Burlington
Click Here to Learn More About All of Our Available Moving Services in Burlington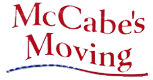 "Your moving job is our career!" Reliable, Affordable, Licensed and Insured Mover in CT
TOLL FREE: 1-866-228-9467
We Make Moving Easy Guaranteed!