Hot Tub Moving Company Berlin
If you're sad to see your hot tub go when you move somewhere else in Berlin or out of town, call us at McCabe's Moving to see if you can take it with you. We have moved hot tubs of all weights, shapes and sizes without causing injury or property damage. We are so thorough we inspect the old site as well as the new one. We want to make sure there's room for the hot tub at the new place and that the floor or deck will bear its weight. Our mission is to give you a hassle-free moving day, so all we'll ask you to do is drain the water then have an electrician disconnect the power. We use our own crew, equipment and trucks to do specialty moves like hot tubs. You don't have to worry about negotiating with any third parties.​
Hot Tub Moving Made Easy in Berlin
Click Here to Check Out Our Other Special Moving Services for the People of Berlin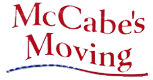 "Your moving job is our career!" Reliable, Affordable, Licensed and Insured Mover in CT
TOLL FREE: 1-866-228-9467
We Make Moving Easy Guaranteed!