Why Should We Get Help with Moving Instead of Doing It Ourselves?
McCabe's Moving knows how much physical labor and time it takes to move from even one small apartment to another, never mind a house or office building. The average person is not used to lifting bulky or heavy furniture, for example, and serious injury could be the result. There are also technical issues that we have had to face over the years including access to elevators and loading docks, parking regulations, and local laws and ordinances.
What Services Won't a Moving Company Provide?
1. We cannot disconnect major gas appliances. We do disconnect washers & dryers. Check with us about other appliances.
2. We cannot be responsible for transporting living things such as plants or pets.
3. It is against the law for movers to transport firearms and hazardous materials. Examples are paints, aerosol cans, nail polish remover, bottled gas, propane, and motor oil. Please check with us first.
4. We don't handle change of address notifications. People usually get a change of address kit at the local post office or online at . We advise contacting banks and credit card companies directly. Customers are also responsible for complying with motor vehicle dept. regulations.
Will We Be Able to Do Our Own Packing to Save Money?
We can advise you about what kind of cartons to use and how to pack. In all cases, be sure to use packaging tape at the bottom of boxes you get from your favorite grocery and dept. stores. Otherwise, items that fall out of boxes will make us spend more time on your move and you could end up with soiled and broken contents.
​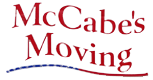 "Your moving job is our career!" Reliable, Affordable, Licensed and Insured Mover in CT
TOLL FREE: 1-866-228-9467